25 Critical Elements for Your Foodservice Website
We all know how important a website is to a business's online strategy, but having a website alone isn't the key to great results.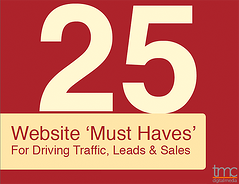 Turn your website into an inbound marketing machine. A website needs to not just exist, but to perform. It needs to attract visitors, educate them and convince them to buy.
In this eBook, we'll cover:
Getting Found Online
Design & Usability
Content
Conversion
START DRIVING MORE TRAFFIC, LEADS AND SALES TODAY.