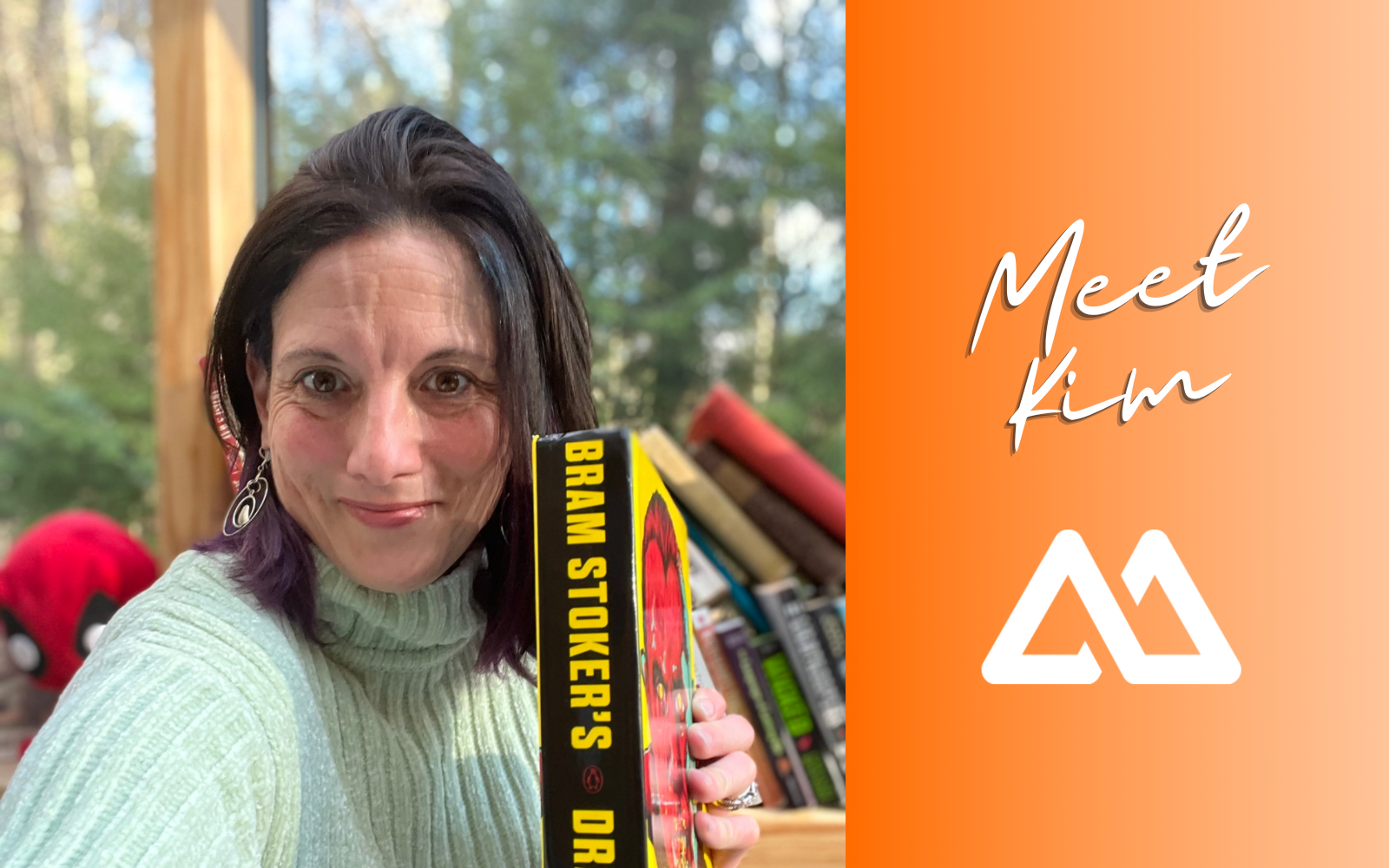 TMC Digital Media is growing again! We've had several great new additions to our team over the past year and we're excited to introduce you to another. Kim Mintz, who lives outside of Boston, MA, joins us as a Social Media Specialist and is ready to help our clients take their social to the next level. We sat down with Kim to learn a little more about her background and what she loves to do when she's not doing research on Tik Tok or Facebook.
Kim, tell us a bit about your background, and how you ended up here at TMC.
Sure! At 15 years old, Papa Gino's was my first employer. I loved every minute of that job, including the long sweaty nights of dishwashing. The team at Papa's was like family, and by the time I turned 19, I was twirling pizzas, and opening and closing the restaurant until I left to bartend at a local restaurant closer to college. After graduating, I went right to work for the Worcester Telegram & Gazette as a writer/reporter covering neighborhood news, and local entertainment.
The dot-com boom hit, and I found myself passionately writing marketing copy, and managing affiliate marketing clients for an internet start-up, now CJ Affiliate, before and after they went public. Since then, I've been drawn to creative environments that place importance on purpose, trackable data, and engagement.
With more than 20 years of marketing experience, I've held positions that span most of the marketing world, from Content Manager to Digital Media Strategist, New Business Acquisition to Digital Recruiter, Product Marketer to Brand Manager, SEO Writer to PR Manager, and now Social Media Strategy at TMC.
Wow! It sounds like you've worn many hats in your marketing experience! How do you see all of those roles and experiences fitting into what you'll be doing here at TMC for our clients?
In just about every way.
Social media strategies are only successful if they correlate to corporate objectives. The social team needs to be aware of the key performance indicators (KPIs) our clients set for their organizations, and then create social media KPIs that show a direct impact on their overall business success, no fluff numbers!
Before jumping into social planning, it's important to understand the big picture. I've been a part of every step of the sales process, developed brands from the ground up, spent years in customer service and account management, presented numerous marketing plans to companies such as Dick's Sporting Goods, Cabela's, Walmart, and even local businesses breaking into the cannabis first aid market.
I now join a team of people at TMC who all wear many hats, and look forward to doing the same for my clients.
One thing we've learned about you is your passion for writing and content creation. What is it about writing that lights your fire?
I can't remember a time that I wasn't writing or making stories up in my head. It's an escape and an adventure. Everything I write feels like a journey, some fabulous and some tedious yet enlightening. It's invigorating when a reader connects with something I've written. I'm in love with the craft and find enjoyment in taking complex topics and turning them into easy-to-understand language for any reader.
There are dozens of my half-written stories in various notebooks in my home and not enough horror books for me to read.
The majority of our TMC team is pro-Oxford comma. Where do you stand in this great debate?

I'd prefer not to use commas whenever possible. Sentences without commas seem to have more impact. That's just my little ole' opinion. However, I do know that commas are necessary.
Having worked for a variety of small to large brands, I've written according to the rules of many different style guides. If you have a guide, then I'll follow it, if not then we're going with Oxford here at TMC.
What's your all-time favorite meal to order out, and where do you get it?
All-time? That's a very hard question to answer. These days it's Acai bowls. Salgabom Snacks is a local Brazilian cafe in Worcester specializing in mini sweets and savories. My favorite is the "Acai na Tijela" with Acai sorbet, bananas, granola, honey, almond butter, blueberries, Nutella, and cupuassu cream.
Also, I can't live without a fabulous bolognese in my life. The best I've had was at a small Italian place, Solaia Restaurant, in the middle of the woods of Monticello, NY.
Do you enjoy cooking at all? And if so, what's your favorite appliance?
I love to cook, especially for my loved ones. My favorite appliance must be my glass stovetop. I can't make pasta sauce from scratch, my daughter's favorite chicken stir-fry, or eggs and avocado every morning without it!
Since that seems like an obvious answer, I'll also share that my Ninja ® Smoothie Blender gets a LOT of use, and it took me way too long to purchase our PowerXL ™ Air Fryer.
It's fun to find new recipes, and I'll attempt to cook just about anything. Baking? Forget about it, I don't think I can follow exact measurements.
Tell us a little about what you do outside of work - other passions, hobbies, family, pets - anything you'd like to share.
Is it cliche to talk about my daughter first? I'm closer to her than any other human, and we love our time together. It's crazy to think that she'll be 18 soon - we already have an appointment to get tattoos together! Rowan inspires me to be a better person and is brave, kind, smart, sarcastic, empathetic, and headed to college way too soon.
Nature is also critical to my existence. Being outside; hiking; gardening; sitting on a blanket in the sun while reading and writing; chasing the dog in the yard; just staring at the stars in the still of the night all keep me healthy and smiling.
Please join us in welcoming Kim to the TMC Digital Media family!