When you think about what a great restaurant looks like or even where it's located, there's always something to imagine. A place, perhaps. A setting. A scene. Bonge's Tavern in Perkinsville, Indiana fits none of those visions.
Sitting on the corner of Madison Street and county road 280 N on the outskirts of Anderson, Bonge's has steadily found its name on restaurant bucket list after restaurant bucket list. It's comprised of an old, rustic-looking farmhouse sitting in the middle of town, if you can call it that, with murals and old advertisements painted on the outside walls. The building itself is surrounded by picnic tables and a gravel parking lot that is traditionally filled with tailgaters waiting to get into the restaurant. That's right, tailgating before dinner. Before Covid, Bonge's did not accept reservations, so waiting for a table turned into an outdoor event complete with wine and cheese, picnic baskets and beer, and more.
Because of the Covid pandemic, though, the restaurant finally started a reservation system that has made getting a table a little easier and has, in ways, eliminated the need to wait outside for a table. The owners fully expect the tailgating tradition to remain, though, before guests enter and glance at the chalkboard above the decades-old bar. Look for mains like duck, pork medallions, New York strip, a fish option, and their infamous Perkinsville pork, to name a few.
Let's talk about that pork for a minute. Imagine pounding down a pork tenderloin to the perfect thickness, and then breading it with just the right mixture of flour, breadcrumbs, and grated parmesan cheese. Now, pan fry it in butter at just the right temperature so the butter doesn't burn, and add a touch of fresh-squeezed lemon. Hoosier Hospitality has never tasted so good.
Even though the thought of great dining might lead to an image of what great dining might look like, don't fall into that trap. Sometimes you can have the best of meals in the middle of nowhere, and that is what destination dining should be.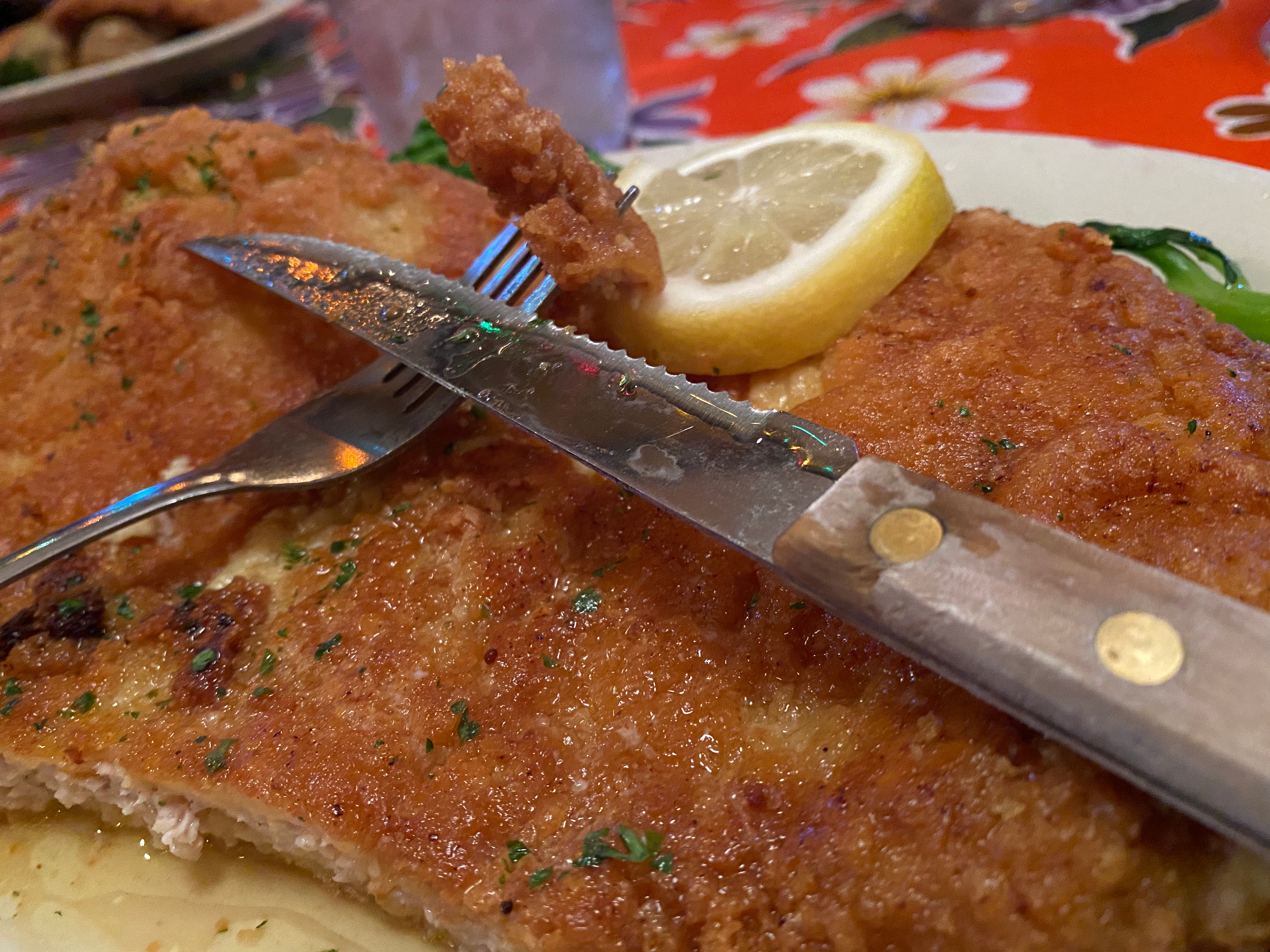 [Sign up to receive The Digest on the first of each month.]