The smell of cookies baking, the sound of potato latkes frying, the sight of the turkey on the table.
Holiday foods can bring lots of memories of getting together with friends and family and spending time together. It's an important way for people to connect. Especially if they only are able to get together once or twice a year.
The TMC team are food lovers and we talk about food and drinks. A lot. So of course now's the time that we're talking about holiday foods, both the ones that have been passed down through our families and ones we've started serving to start new traditions. Here are our favorites and where they came from.
Brian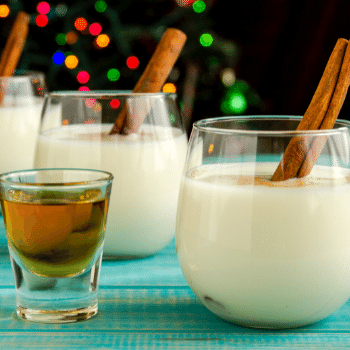 My family does things by the book around the holidays — turkey, mashed potatoes, a pie (or six). It's standard fare but we like it. But there's a dark secret about me. Open my fridge on December 1st and you'll think I robbed the egg nog factory. We drink it by the gallons, quite literally. Egg nog neat, egg nog with spiced rum, egg nog with bourbon, egg nog with a scoop of egg nog ice cream, it's all flowing in our house. Do I make it from scratch? Heck no, that's the valuable time when I could be drinking egg nog. It's really the motivation to let the airing of grievances fly around Festivus.
Chad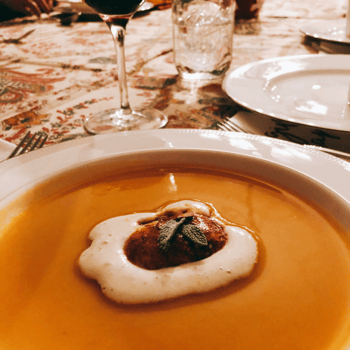 I love Thanksgiving because it's a true food holiday. And when I eat food, I always love layers of flavor, creativity, and complexity. Add these together and you get a curry-spiced butternut squash soup with homemade sage-infused marshmallows, which I brulée and top with vadouvan-roasted squash seeds and dried sage. I started making this about five years ago, and now it's a family favorite.
Erik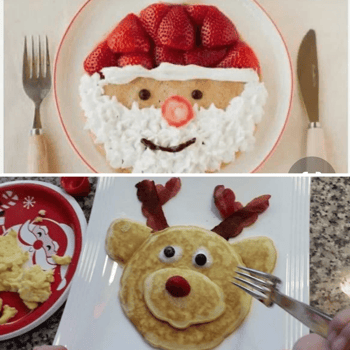 When our son was 2-years-old, we surprised him with Santa and Rudolph pancakes on Christmas morning. We keep it going with our daughter and now we all look forward to creating these together. But more importantly, indulging in them!
Lauren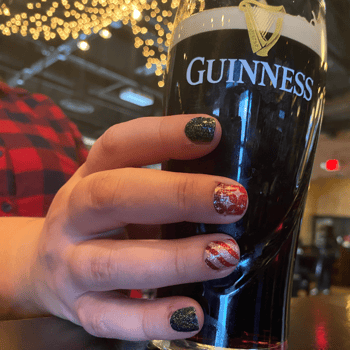 Our holiday tradition starts with a visit to Quincy Market in Boston, MA to buy a new ornament for the tree. Once we find the perfect addition, we head off to one of the many Irish pubs in the area for a Guinness topped with Chambord. That's how I feel like the holidays have started.
Marcea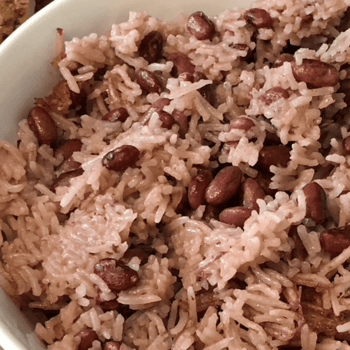 Every Thanksgiving and Christmas when I was growing up, my mom made rice and peas as one of the side dishes. My dad was Jamaican so my mom used a recipe taught to her by my dad's sister to bring in his heritage and homeland. Made with white rice, dried small red beans (called 'peas' in Jamaica), coconut milk, scallions, garlic, scotch bonnet pepper, and herbs, it's a traditional dish that every descendent of a Jamaican is familiar with. Now I made it for my family during the holidays to keep my dad's memory alive.
Melissa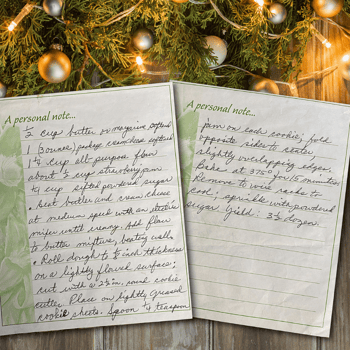 A table staple served at our holiday gatherings are Kołaczkis [pronounced ko-lah-chee]. These four-ingredient cookies are made with a buttercream cheese dough that bakes up flaky and are filled with jam. My great-grandparents came over from Poland and this recipe keeps their legacy alive. Enjoy this family recipe, handwritten by my incredible grandmother. Make sure you're patient because these little guys take a lot of time to prepare and assemble. They are worth every minute, I promise!
Megan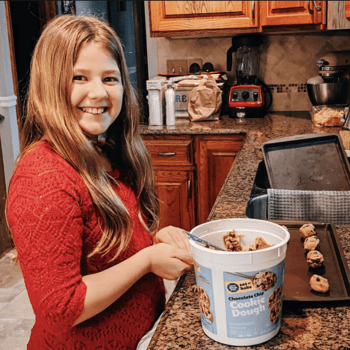 My family tradition is a bit different than most. You see, I'm not the cook in my family. In fact, if dinner is my responsibility, the chances are high it's going to be store-bought. Every year since we've moved back to Michigan (this will be our 6th) my husband, who's the family cook, and my mom have tried something new and fun. One year it was a rack of lamb; another year he did prime rib. So we don't have traditional holiday food, aside from consuming far too much raw cookie dough prior to Christmas and hanging out as a family. To prove my level of both cooking skills and parenting, this photo basically sums it all up: my 10-year-old "making Christmas cookies" last year. Follow me for more parenting hacks and recipe advice, eh?
Mike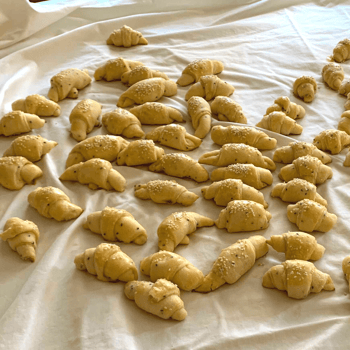 A favorite in our house, passed down on my mother's side, is called choereg. It's an Armenian bread that's sweet, doughy, and addicting. You can never just have one piece - in my opinion, you have to take handfuls. It's typically reserved for Easter but we can't get enough of this sweet bread so we make it several times throughout the year, including the Thanksgiving and Christmas holidays.