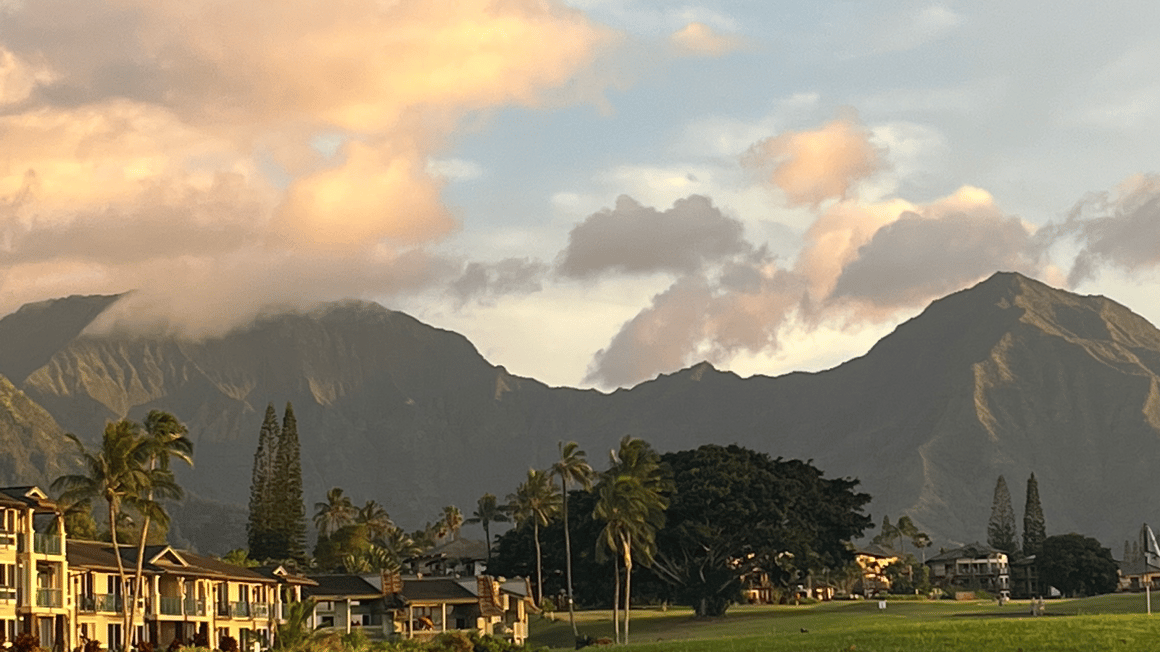 According to legend, the Nounou mountain ridge of Kaua'i is a giant who laid down to take a nap and never woke up. The story tells of a few fun-loving Hawaiians who had fooled the giant into eating stones out of a koi pond. The heavy rocks filled the giant's belly so much that it immediately fell into a deep sleep.
Since then, Nounou Mountain has been fondly known as the Sleeping Giant of Kaua'i. One day the snoozing titan may wake up and be quite hangry. We've put together these quick and delicious options to calm the rumblings of the giant's hungry stomach.
Kalalea Juice Hale
One of our favorite stops for the day's first meal is Kalalea Juice Hale. It's a colorful roadside food truck serving up local coffee, fresh juices, coconuts, smoothies, shaved ice, and more.
If you ask us, the Sleeping Giant will drool at first sight of their made-to-order acai bowls. Sinfully delicious acai acts as the base. Choose from a long list of local toppings such as cacao nibs, coconut, green matcha powder, mango, maca, papaya, pineapple, and vegan protein powder - need we continue to list the possibilities?
Kalalea Juice Hale is family-owned and located on the island of Kaua'i at 4390 Pu U Hale Loop in Anahola, HI. The view from their picnic tables is indescribable, a true paradise. Sit and fall in love with some of the freshest food you've ever eaten just a few miles from the base of the Sleeping Giant.
Holy Grail Donuts
The next stop on our quest to satisfy the giant's hunger brings us to the town of Hanalei. Located in a small food truck park off of Kuhio Highway, Holy Grail Donuts is the home of tiny donuts with extra large flavor. Its mission is to bring guests on a flavor adventure with historical roots, literally.
Pounded and fermented taro root is used to create the little dunkers, and each one is fried in fresh coconut oil. Each donut is made to order and served hot with toppings of the week melting into the warm, pillowy dough.
Look no further if you're searching for the holy grail of doughnuts. The doughnut makers offer a new menu of flavors each week. Create your tasting boxes for on-the-go treats. You won't find breakfast buns like this anywhere else. Our guess is you'll visit these bakers more than once.
Kilauea

Bakery & Pizzeria
It's not easy to go out to eat in Kauai. Trust us; plan ahead. Otherwise, you'll waste time in paradise standing in long food lines or driving around aimlessly looking for that 4-star restaurant that isn't worth the money. Most food establishments close by 8 PM or earlier. That can limit dinner options and burn your hopes for late-night pizza.
Our favorite pizza on the Garden Island can be found in Kilauea, and we're confident it will stave off the giant's hunger.
Kilauea Bakery & Pizza serves piping hot pizza on dough made from scratch in their bakery. Choose from a variety of local toppings, including house-smoked meats, seafood, veggies, and fruit (pineapple, anyone?) native to Kaua'i. Kilauea Bakery is located in the Historic Kong Lung Center at 2484 Keneke Street in Kilauea, Hi.
Koloa Mill Ice Cream
Many people think of shaved ice before traditional hard ice cream when looking for a cold treat in Kaua'i. If shaved ice is your jam, you can find it at our next decadent stop, but we suggest hard ice cream.
Koloa Mill's ice cream is made on the island of Maui. What makes it so good? The fat content; it's higher than any ice cream found stateside in America. We suggest three scoops of banana in caramel dipped waffle cone with chocolate sprinkles—simply delicious.
Koloa Mill Ice Cream has been part of the Koloa community for more than 20 years. In addition to hard ice cream and shaved ice, sugar-seeking guests can find homemade cotton candy, baked goods, and the freshest cup of locally grown and roasted Kaua'i Coffee.
What foods would you offer to hungry Giant? Please share them with us in the comments!