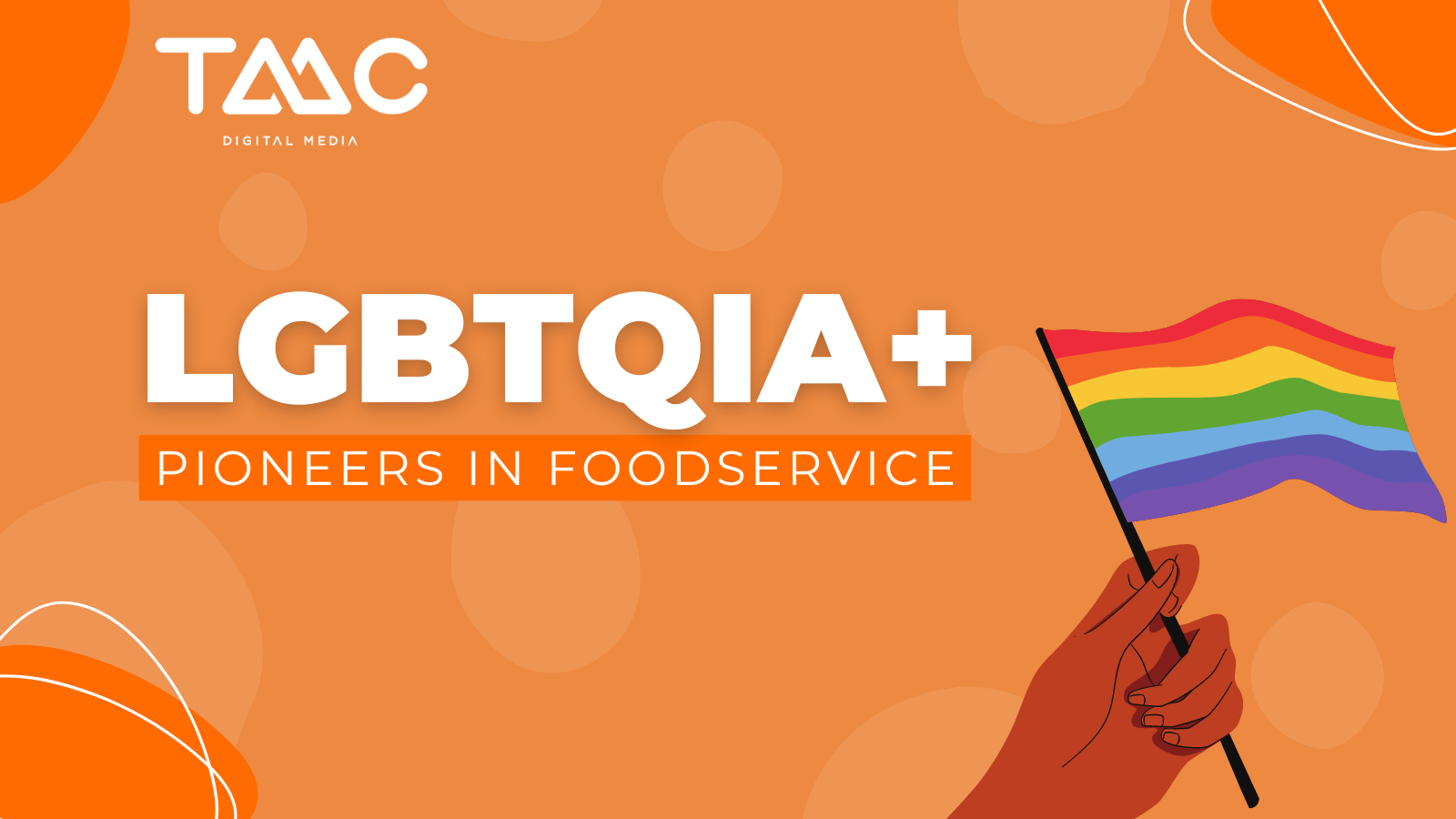 Pride Month is celebrated annually in June across America and pays tribute to the 1969 Stonewall uprising in Manhattan, NY. Progress continues with a 7.1 percent increase in adults identifying as LGBTQIA+ and advocates like the Human Rights Campaign and its three million registered members.
At times, the loud and proud rays of sunshine in the LGBTQIA+ community receive the most public attention. Let's not forget the disrupters who make a difference in other unique ways.
In honor of Pride Month, we're featuring these LGBTQIA+ culinary artists who pioneered how food is created and served today.
James Beard
Chef James Beard grew up foraging at the beach with his parents each summer. They'd spend their days catching fish, picking berries, and hunting for shellfish. His mother loved to cook and, once satisfied with their beachside booty, would bring their wild ingredients home to create a family meal together.
Chef Beard attended Reed College in Portland until the school expelled him for homosexuality. He persevered and taught cooking classes at a local high school until 1955 when he started the James Beard Cooking School.
In 1986, culinary arts icon Peter Kump and Chef Julia Child co-founded the James Beard Foundation in honor of Chef Beard. The Foundation is a nonprofit with a powerful mission "to celebrate, support, and elevate the people behind America's food culture and champion a standard of good food anchored in talent, equity, and sustainability."
American cooking became popular because of Chef Beard during a time when French style was considered the only way to cook. He and Julia Child were great friends and created savory dishes alongside each other for years. Chef Beard wrote what's regarded as the first real cookbook for outdoor cooking, and when his book Hors D'Oeuvre and Canapés was published, Julia predicted that it would make him wildly famous.
He hosted many gatherings in his New York home with gay friends who shared his passion for food, so they could enjoy each other's company without hiding their sexuality. Chef Beard was 78 years old when he came out publicly in his memoir, Delights and Prejudices.
Susan Feniger
Chef Susan Feniger graduated from the Culinary Institute of America in New York. She went on to win multiple awards, including the Elizabeth Burns Lifetime Achievement Award from the California Restaurant Association and Gold Award for culinary excellence and innovation in Southern California.
Chef Feniger began breaking barriers early in her career when she joined multiple primarily all-male kitchens such as Le Perroquet in Chicago. She co-owns multiple restaurants, including Border Grill, with her business partner of more than 30 years, Chef Mary Sue Milliken.
Known for a commitment to sustainability and high-quality ingredients, Border Grill Mexican restaurants are street food-inspired and located in downtown Los Angeles, LAX, The Huntington Library, and the Mandalay Bay Resort and Casino in Vegas.
Also an author of many cookbooks, Chef Feniger wrote one of our favorites, Susan Feniger's Street Food: Irresistibly Crispy, Creamy, Crunchy, Spicy, Sticky, Sweet Recipes.
She is committed to giving back to local communities, sits on the board of the Scleroderma Research Foundation, and is co-chair of the Los Angeles LGBT Center. Chef Feniger also gives her time to Women Chefs and Restaurateurs, an organization for women who support the advancement of culinary education.
Hannah Hart
Hannah Hart is widely known in the foodservice industry for creating My Drunk Kitchen, a weekly YouTube series with millions of Followers in which she cooks something while getting buzzed. Hart is also an author and avid traveler; a popular social media personality, and an actress with her own Food Network series.
Hannah's audiences love the way she engages with them through food in silly ways.
For some fun and expert cooking tips; check out her Edible History videos on YouTube. In one episode, Hart makes a 700-year-old lasagna and eats it with a wooden stick as suggested in the recipe.
One of the most influential YouTube stars in the world, Hart is a bestselling author and LGBTQIA+ activist.
Kristen Kish
Chef Kristen Kish graduated from Le Cordon Bleu College of Culinary Arts in Chicago and began her career in Boston. Chef Kish's Korean background greatly influences the way she cooks.
She recently commented on her love of cooking in an interview with Variety. "My job is not hard. Cooking is not hard," Kristen stated. "But what I do is an art. And how I do it, I take a lot of pleasure and pride in that process."
Originally eliminated in Season 10 of Top Chef, Kristen fought her way back in by winning Last Chance Kitchen and then continued on to win the entire Top Chef competition.
Chef Kish now co-hosts the Iron Chef series on Netflix with Alton Brown and admits she prefers hosting over competing.
Milk is one of her favorite cooking staples because everyone can cook with it and no one expects it to be the star of an entree.
Check out our Chefs of America blog featuring Chef Kish to learn about the contrasting tastes she's most fond of pairing.
Michael Twitty
Michael Twitty is a culinary historian and historical interpreter. An Antebellum Chef and Kosher soul, he has an eclectic background.
He majored in African-American studies and anthropology at Howard University and received a lot of buzz in the media when he published an open letter to Paula Deen after she was fired from the Food Network.
Chef Twitty received the Culinary Pioneer Award from Tastetalks and won both reader's and editor's choice for his letter to chef Sean Brock.
In addition to being a Ted Fellow, he authored The Cooking Gene, which won the 2018 James Beard Foundation's Book of the Year award and the category for writing.
We also enjoyed featuring Michael in TMC's African American Pioneers in Foodservice blog, where you can learn more about this chef who believes "you have to keep cooking, dreaming, and eating."
Who are the LGBTQIA+ chefs that inspire you? Please share in the comments.